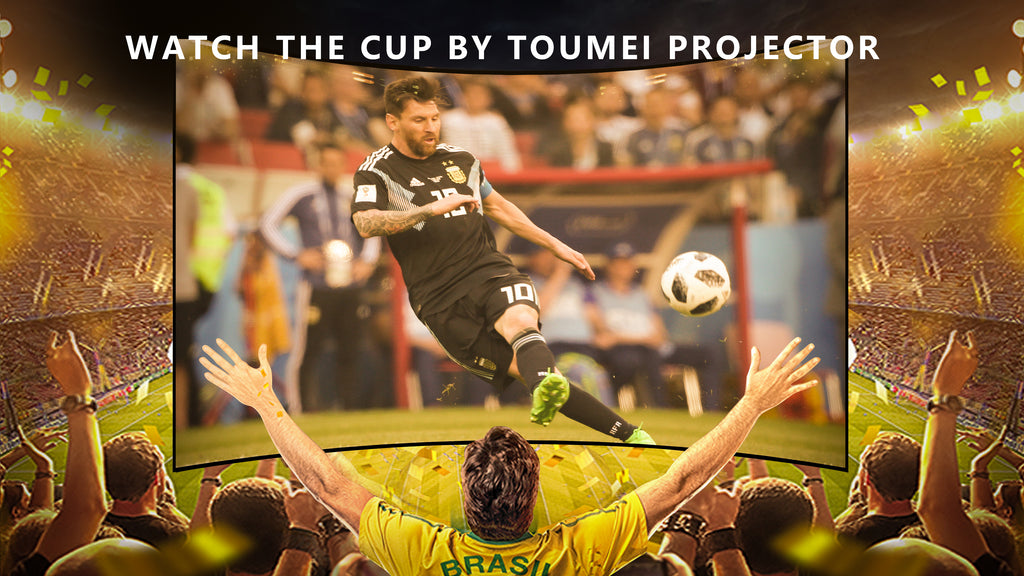 Toumei V8/V8 pro advantages 

Auto-focus function, free your hand
Active shutter 3D shocking experience
Up to 300inch screen for life-sized fun
Versatile compatibility with Android 9.0 OS, support wif-display
Go outside with the 15600mAh battery
6D omnidirectional keystone correction
Enjoy theater-quality images, max support 4K signal input
2 built-in speakers complete the cinematic experience
Supports multiple languages: English, Japanese, French, German, Italian, Spanish, Chinese, Traditional Chinese, Korean, Russian, Vietnam, Portuguese, etc.
Auto-focus
Auto-detection throw distance, Auto-focus on startup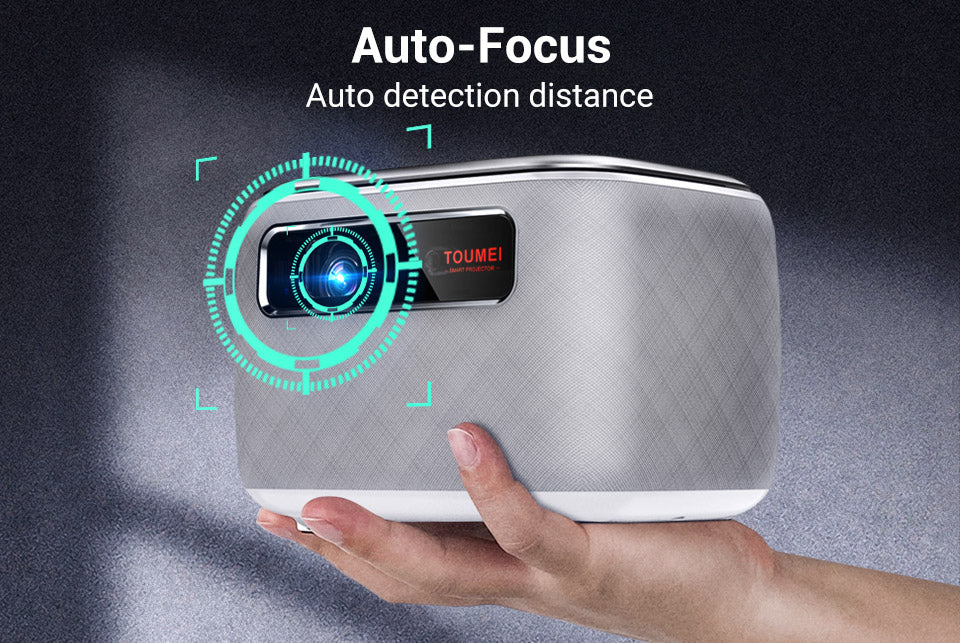 0.45 inch large panel DMD, Higher brightness and definition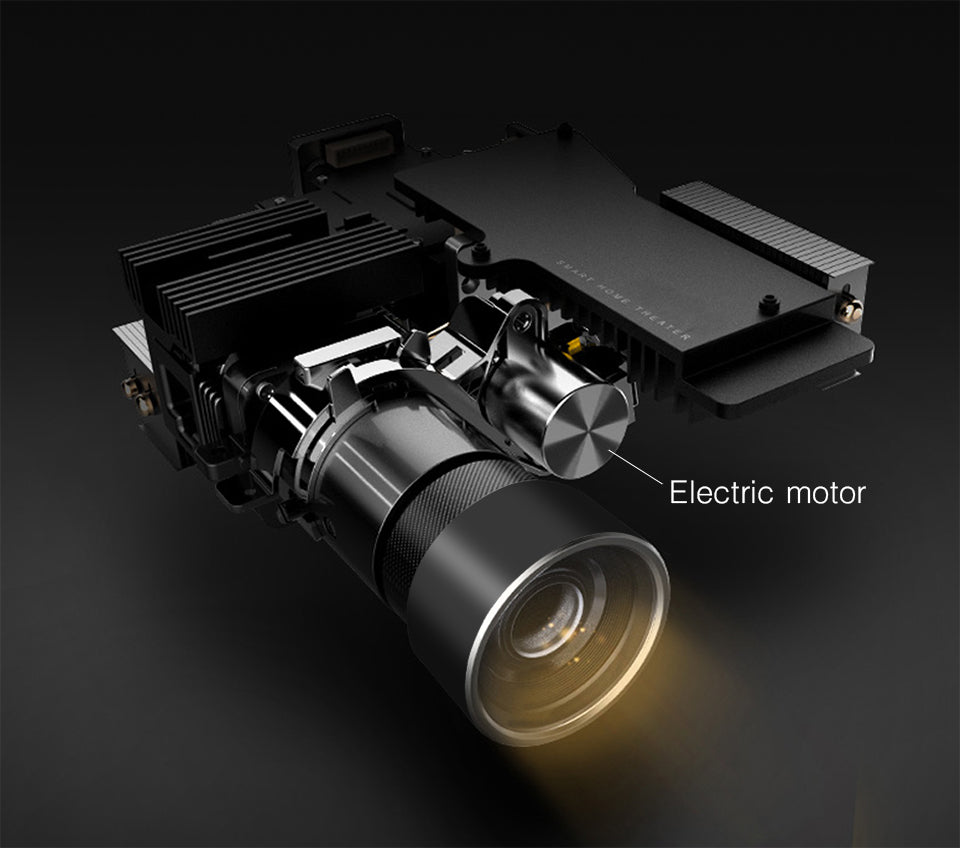 Built-in Rechargeable Battery(V8 PRO)

Going to camping and watching movies, the battery can last for 1.5 to 2.5 hours.
The sound is mellow and powerful.Stereo dual speaker output
Compatible with a variety of devices
● The USB interface can read solid-state hard drives and U disks up to 32G and supports an external mouse, gamepad, and 2.4G air mouse to control the projector.
● The built-in HD 2.0 interface can support up to 4K signal input and can be connected to PS4 game consoles, computers, Blu-ray DVDs, TV boxes, and other high-definition devices.
● The audio output interface can be connected to external speakers.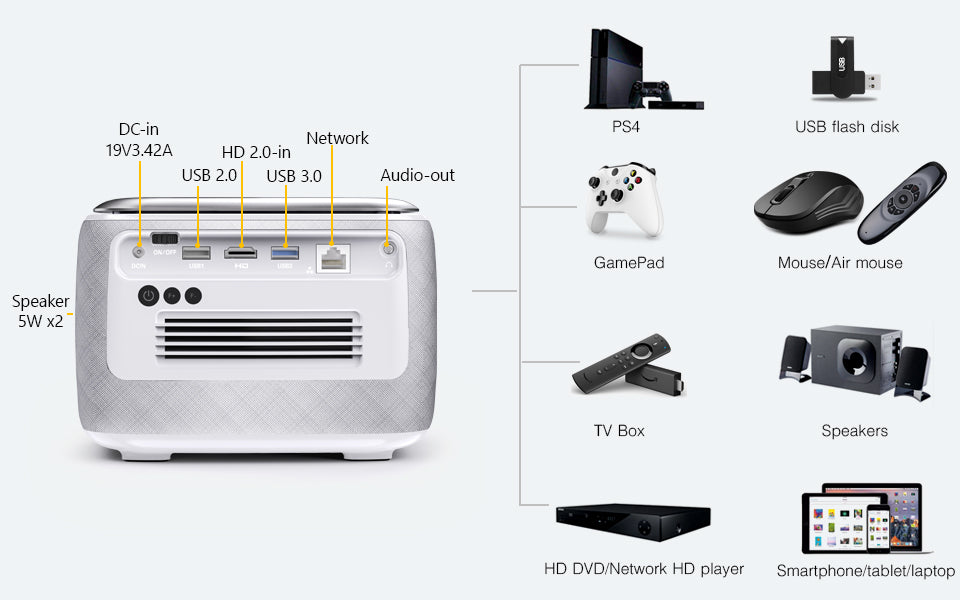 Built-in Smart Latest Android 9.0 OS
Built-in 2.4G & 5G Wifi, BT 5.0, support download APP, online movies, play games
Max support 4K :
Built-in HD 2.0 interface, max support 4K resolution signal input
Watch Football Match
Party outside and watch a movie together on weekends
Large screen, Play games
Play games with your family
Wifi Display
Wireless Connect to Android Device / iOS Device / PC
The Best Choice for Quick Meetings
True wireless projection, very convenient for mobile conference presentations
Low working noise
The magnetic suspension cooling fan is adopted, and the working noise is lower than that of similar projectors.
Projection distance and screen size
Throw Ratio: 1.2: 1, max 300inch
(*Data is for reference only, subject to actual measurement)



  (V8:No battery    V8 Pro:Built-in battery )
System
● Android 9.0 OS
● WiFi : 2.4G & 5G dual-band WiFi
● BT: BT 5.0
● CPU: 
MTK Contex A53 4 core decode 4K H.265/AVS2 4K*2K/30HZ
● 
GPU: Mali-G52
● Memory: RAM 2G DDR3, ROM 32G BeMMC
● WiFi-display: Support
 Airplay, Miracast, DLNA.(EShare is pre-installed)
Optical specifications

● Light Engine: TI 0.45 inch WVGA DMD
● Light Source: OSRAM RGB 3LED
● Light Lifetime: 50000 hours
● Brightness: 800 ANSI lumens
● Contrast Ratio: 15000:1
● Resolution: 1280*800, Max support 4K
● Aspect Ratio: 16:10/16:9/4:3
● Off-aixs:100%
● Throw Ratio: 1.2: 1
● Project Dimension: 30-300''
● Project Distance: 1- 8m
● Focus Mode: Auto-focus
● Zoom: Remote electric zoom
● 6D Keystone: Auto/Manual keystone, Manual corner keystone
Battery
● Battery: Built-in 11.1V 5200mAh Li-ion battery, Battery life: 1.5~2.5 hours
 Interface

● HD 2.0 *1;
● USB 2.0 *1, USB 3.0*1 (Read Data from USB SSD Hard Drive, Support Mouse, and Keyboard Control)
● Network*1 (Connect ethernet)
● 3.5mm Headphone jack (Audio Out ) *1
● DC-in 19V/3.42A (DC 5.5mm*2.5mm)


Others specifications
 ● Speaker: 5W*2, Stereo output
● Projection Mode: Front/ Rear/ Ceiling front/ Ceiling rear
● Keystone Correction: Auto/Manual Vertical keystone, Manual Corner Keystone
● Power Consumption: 45W
● Device: 180*140*128mm (7 * 5.5 * 5 inch )
● Weight: 1.43kg/3.15LB


Take V5 as the example
How to

setup

?
Turn on the projector
Focus

How to choose the language?
How to adjust the screen?
How to connect with WiFi?

How to airplay your phone?
How to connect your bluetooth speaker?
Turn on the speaker, Turn on the bluetooth of projector, connect them together
How to connect your computer?
Connect by HDMI cable.

How to connect your gamepad?
Connect by HDMI cable.
How to connect the mouse?
Plug mouse in USB port
How to watch 3D movie?
Take a shutter 3D glasses
What is the best throw distance
2-3Meters

It can support what kind of video format ?
MPEG-1 MPEG-2 MPEG-4Real-time video decoder, H263,H264,H265,1080P, Sorenson Spark,WAV
It can support what kind of audio format?
MP3,WMA,MP2,0GG,AAC,M4A,MA4,FLAC,APE,3GP,WAV

It can support what kind of image format?
Jpg, Png Bmp etc.
How to control your projector?
By mouse, by Remote controller
How to download Apps?
By google play store or Aptoide

How to fix the problem of  system?
Please send email to support@toumeipro.com
Need more help
Call us: +86 138 2457 8022
Live chat: WhatApp +86 137 1470 3093
Send email: support@toumeipro.com